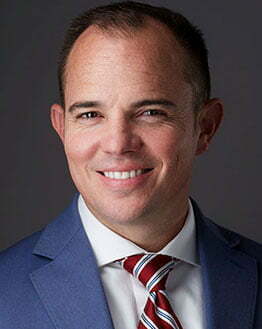 PRACTICE AREAS
Civil Litigation
Corporate Law
Estate Planning
Cody L. Backus
Of Counsel
480-240-4150
Cody L. Backus practices primarily in the areas of corporate law, real estate law, and estate planning. Cody is licensed to practice law in both Utah and Arizona and regularly services clients in both states.
Business, Estate Planning, and Real Estate Lawyer
As an Arizona and Utah business lawyer, Cody's practice area has allowed him to represent hundreds of entrepreneurs in the formation of over 350 business entities, partnerships, and joint ventures. Cody enjoys working with clients to structure business and real estate transactions to maximize returns, ensure proper legal compliance, and mitigate risk.
As a real estate lawyer, he has consulted for real estate entrepreneurs on various real estate transactions, including seller financing, wholesaling, private/hard money lending, syndication, and self-direction of retirement accounts. Cody has participated in, consulted with, and advised clients on over 150 real estate closings.
As an estate planning lawyer, he applies this same comprehensive planning approach. He focuses on ensuring a smooth transition of assets and wealth from his clients' estate to their loved ones.
Prior to joining Wallin Hester, Cody worked for a boutique law firm in Utah. He stayed very busy assisting clients with their business entity structuring, partnering, real estate law transactions, and estate planning needs at this well-recognized premier law firm for real estate investors.
Before that, he worked for one of Utah's billionaires, managing a $200M+ portfolio of commercial real estate. He was also involved in the management of a regional shopping mall and as Director of Development over a 120-acre mixed-use development in Utah County.
Cody is an entrepreneur and real estate aficionado and therefore enjoys working with those who share his passions.
Education
Creighton University School of Law, J.D. 2014, Member of International Law Review
University of Phoenix, B.S. Business Finance, 2009
Admissions and Qualifications
Arizona State Bar, 2014
Utah State Bar, 2015
About Cody
Cody was born and raised in Northern Arizona. Cody spent two years in Bolivia (South America) as a missionary where he learned to speak fluent Spanish. He created his first successful business at age 21. Cody earned a Bachelors degree in Business Finance from the University of Phoenix while working as a full-time Asset Manager for a real estate development firm in the Phoenix area. He later went on to earn his Juris Doctor from Creighton University School of Law in Omaha, Nebraska.
Cody loves being able to call both Arizona and Utah "home" as he spent considerable time in both places, has dear friends and many clients on both sides of the state border. Cody enjoys all sports and the great outdoors. Cody is a proud husband to Kacie, and father of three daughters who love to dance and tumble, and one son, who loves being spoiled by his three big sisters.